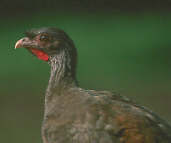 Pantanal, Mato Grosso, Brazil
September 2000

The Chaco Chachalaca is found in the centre of South America where Bolivia, Paraguay, Argentina and Brazil meet. There are two subspecies and this one is the O.c. pantanalensis which is larger and browner than the nominate subspecies.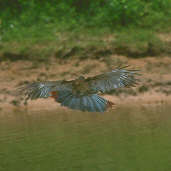 In the Pantanal they are usually in large groups, perching up trees and making a tremendous noise. They can be heard over a distance of 2 kms and the male sings one octave lower than the female. They often sing a duet but there are usually so many singing at the same time that this is difficult to detect.

They eat fruit, seeds, leaves and caterpillars. The seeds pass through their gut unharmed so they act as dispersers.