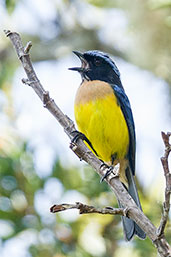 Santa Marta Mountains, Magdalena, Colombia
April 2012

Carriker's Mountain-tanager is distributed in the Santa Marta Mountains. See the distribution map at Birdlife International. It is found in the understorey and borders of montane forest and woodland where it feeds on small fruits and berries as well as insects.

The HBW and Birdlife International checklist split this species from Buff-breasted Mountain-tanager Dubusia taeniata on several plumage differences such as the denser streaking on the forehead and supercilium and the extension of the buff breast up to the centre of the throat. There are also vocal differences.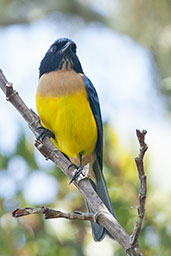 It is normally skulking in the vegetation but, when singing, can be seen, as here, on an exposed perch.
The song is a loud, sweet whistle. This bird was recorded by Jeremy Minns.