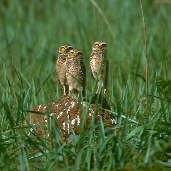 Brazil

The Burrowing Owl is an owl of dry, open habitats such as cerrado and savannah while it is often found in cities, golf courses and other similar areas. It nests in the ground usually in a burrow excavated by another animal such as a skunk or armadillo.

It is normally classified as diurnal and, as the photos shows, they can be very obvious during the day. However, we found them to be actively hunting at least 2 hours after sunset in Emas.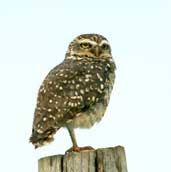 Apart from its terrestrial habits, it is easily recognised by its long legs, short tail, yellow eyes, white eyebrows and forehead.

Burrowing Owls are found in the Americas from Canada to Tierra del Fuego. There are about nineteen subspecies the one in these photos being Speotyto cunicularia grallaria

There are recordings on xeno-canto, a distribution map from NatureServe and additional information available via Avibase.