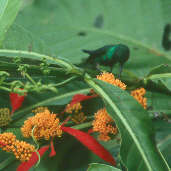 Amazonia National Park, Pará, Brazil
September 2000

The Blue-chinned Emerald is found from Colombia to eastern Brazil and along the Amazon River. It is found in a variety of habitats ranging from várzea and terra firme forest edges to shrubby areas and gardens.

It feeds mainly on nectar and the male establishes a feeding territory which it defends vigorously. It also feeds on insects.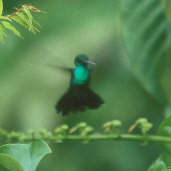 It has a straight bill with the lower mandible red tipped black. The male is glittering green below with a glittering blue chin. The female is grey-green below. Note the squarish shape of the tail.

There is an illustration in HBW, Volume 5, Page 570.