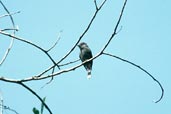 Carajás, Pará, Brazil
February 2002

The Blackish Peewee is rare and localised. It is known from smallish, disjunct areas in eastern Ecuador and Peru, the Guianas and Amazonian Brazil. It may well be under-reported since it tends to perch high in the forest canopy and borders.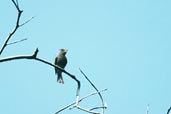 We were excited to find two pairs of them at Carajás. One of the pairs also had a juvenile.

The Blackish Pewee is a fairly uniform dark grey in colour. Its upper mandible is black while its lower one is yellow. This was caught by the sun in the second photo while the bird was singing.

There are illustrations in Ridgely & Tudor, Volume 1, Plate 8; and in Ridgely & Greenfield, Plate 71.