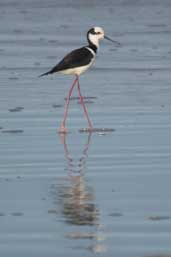 There are several different treatments of the taxonomy of this bird. In Shorebirds, HBW and Howard & Moore, it is treated, along with H. mexicanus, as a sub-species of Himantopus himantopus, namely, H. h. melanurus. The AOU treats Black-necked Stilt H. mexicanus as a species of which melanurus is a sub-species and Clements awards it full species status as White-backed Stilt H. melanurus.

Under the first approach, Black-winged Stilt is found across most of the world. The race melanurus is distributed from northern Chile to south-east Brazil and south to central Argentina while the race mexicanus is distributed in western and southern USA through Central America and the West Indies to northern and central South America.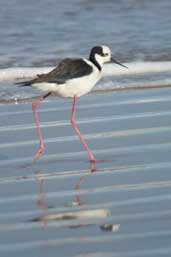 It breeds in freshwater shallow wetlands, marshes, lake edges, etc., as well as in coastal salt marshes. Outside the breeding season it forms large flocks on the coast or on lakes.

It is unmistakable with its very long, pinkish legs. The race melanurus, shown in photos 1 to 3 and 5 to 6, has a black hind crown and hind neck with a white collar. The female, seen in photos 2, 5 and 6 has a brown tinge to the back. The race mexicanus, shown in photo 4 does not have the white collar and has more extensive black on the crown.