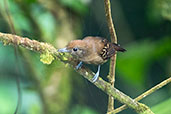 Rio Silanche Reserve, Ecuador


The Black-crowned Antshrike is distributed from Belize through Central America to Colombia, Venezuela, Ecuador and the extreme north-west of Peru. In Ecuador it is the only Thamnophilus Antshrike that occurs in the lowlands west of the Andes. See the distribution map at Birdlife International.
It is found in the lower growth of humid and semideciduous forest and woodland up to 1,500 metres.

This photo is of a female. The male is mostly grey with a black crown and black back, wings and tail. It has a semi-concealed white patch on the back and bold white spots on the wings.

This species used to included in the Slaty Antshrike Thamnophilus punctatus complex which is why Ted Parker announces his recording with this name.