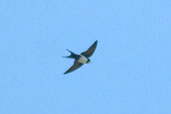 São Gabriel da Cachoeira, Amazonas, Brazil

The Black-collared Swallow is distributed in parts of the Amazon and Orinoco Basins and in the Guianas with isolated records elsewhere in Brazil and as far south as northern Argentina. See the distribution map at Birdlife International. It is usually found along blackwater rivers where there are rapids or boulders and where the blackflies that they feed on congregate.

It is glossy blue-black above and white below with a narrow black band across the chest (which, at times can be hard to see). It has a long and deeply forked tail.