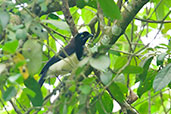 Magdalena, Colombia
April 2012

The Black-chested Jay is distributed in northern Colombia, north-western Venezuela, Panama and Costa Rica. See the distribution map at NatureServe.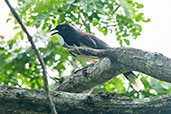 It is found in a variety of forest types but not in the interior of dense forest. Mostly below 1,500 metres but can be found up to 2,200 metres. Photo 1 was taken at 1,800 metres. Food consists of fruit, berries and invertebrates.

Note the yellow iris, the blue markings on the face and the white tip to the tail.

The bird in photo 1 was recorded by Jeremy Minns.