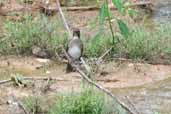 Brazil, Colombia, Peru and Ecuador


The Black-billed Thrush is distributed in west and central Amazonia and along the foothills of the Andes and into the Cauca and Magdalena valleys of Colombia. Some authorities such as Birdlife International split the species into Black-billed Thrush T. ignobilis distributed in higher elevations in Colombia and Venezuela (See the map) and the Floodplain Thrush T. debilis distributed in the lowlands of the western Amazon Basin. (See the map.)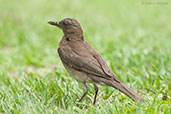 It is found in semi-open areas such as clearings and, when I lived in the Cauca Valley, Colombia, it was very common in our garden so I was delighted to see it again in the garden of a good friend when I visited him in 2012 (photos 2 and 3).

It has a dark bill and is otherwise lacking in obvious field marks. The Amazonian sub-species T. i. debilis (photos 1,4, 5 and 6) has a whitish patch on the upper chest and fades to white on the belly and crissum below a grey-brown breast. The nominate race, seen here in photos 2 and 3, is browner.