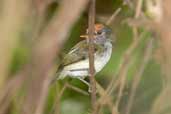 Carajás, Pará, Brazil
October 2005

The Black-and-white Tody-flycatcher is distributed in south Colombia, eastern Ecuador, eastern Peru, Rondônia in Brazil and, way across Brazil, in Carajás. See the distribution map at Birdlife International. This suggests that it might be one of those species that is much more widespread than current knowledge suggests.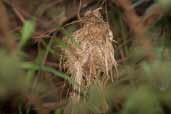 The female, shown here, has a stunning chestnut crown and is olive above with a grey head and mainly whitish below with greyer flanks.

We found this pair as they were putting the finishing touches to their nest which can be seen here in photo 3. The entrance was on the right hand side. It was about 1 metre off the ground and easily seen from the road.