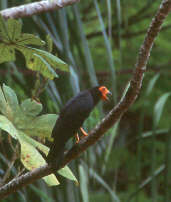 Easy to tell from the Red-throated Caracara by its lack of a white belly although it does have white on the rump and at the base of the tail.

They are omnivorous eating carrion, fish, insects, frogs, fruit, etc.. It is said that they like to eat ticks off Tapirs and that, on hearing the cries of the Black Caracara, a Tapir will let out a squeal to attract the Caracara and will then lie belly-up to let the Caracara eat its ticks.

They are normally found in the Amazon forest near rivers.