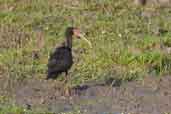 Brazil


The Bare-faced Ibis is distributed throughout most of South America east of the Andes except for central Amazonia. See the distribution map at xeno-canto. It is found in marshes, wet meadows, rice fields, savannahs and similar open habitats.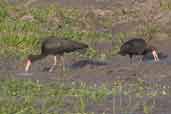 It has bare red skin on the face and a long, decurved, pink to yellow bill. In flight its pink legs barely extend beyond its tail, a feature which distinguishes it from flying White-faced Ibis Plegadis chihi whose longer legs extend noticeably beyond the tail.

It uses its long bill to probe the ground for worms, etc.