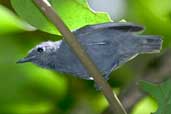 Murici, Alagoas, Brazil
March 2004

The Alagoas Antwren is endemic to a very small area of north-east Brazil. It is known only from Atlantic Rain Forest remnants at Murici, Alagoas and Jaqueira, Pernambuco. It is classified as Critically Endangered by Birdlife International who describe it as being "on the brink of extinction".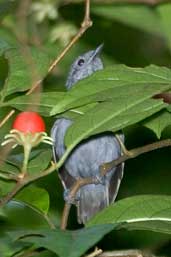 The male, shown here, is generally grey with an indistinct black patch on the throat. The female, which we didn't see unfortunately, is fulvous-brown above with a russet tail, rufous-buff underparts and a white throat.

It is very similar to Unicoloured Antwren M. unicolor but has a shorter tail and a longer bill as well as a different voice.

There is an excellent page by Birdlife International here. This was written before the species was discovered at the Jaqueira site in Pernambuco. A note on this new site by Juan Mazar Branett, Caio Carlos and Sônia Roda was published in Cotinga 20, Page 13.