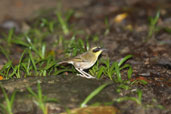 Daintree, Queensland, Australia
November 2010

The Yellow-throated Scrubwren is endemic to Australia and is distributed in north-east Queensland between Cooktown and Townsville and from south Queensland to Illawarra in New South Wales. It is found on the ground and in the understorey of rainforest and woodlands.
The male, shown here, has a bright yellow throat, a red eye in a black mask and a white or yellow supercilium.

The sub-species in north-east Queensland S. c. cairnsi is notable in being much less vocal than the southern races. In the south the song includes a lot of mimicry (of up to 30 other species of bird) while in the northern race mimicry has not been recorded. This suggests that the northern race, which is also smaller, might be a separate species.