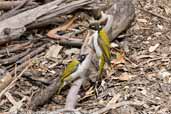 Victoria, Australia
February 2006

The White-naped Honeyeater is distributed in east, south-east and south-west Australia. It is found in wet and dry eucalypt forest and is noticeably absent from savanna woodland. It feeds on insects which it finds on the foliage and on nectar and insects from the blossoms.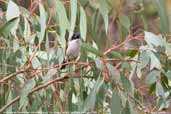 Upperparts are olive-green and underparts are white. The most noticeable feature is the orange-red crescent above the eye although in south-west Australia this is white or cream in colour. There is a thin white band round the back of the neck.

The immature, seen here in photo 3, is duller with a paler eye-crescent and a pinkish-orange gape and base of the bill.