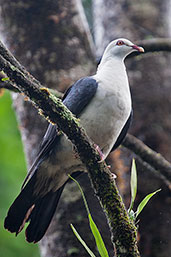 Paluma, Queensland, Australia
December 2010

The White-headed Pigeon is distributed in the east of Australia from Cooktown in Queensland to the Hunter River in New South Wales. It is found in rainforest, particularly the edges, and in secondary growth. For a distribution map see Birdlife International.

It feeds mainly on fruit and tends to migrate to where the fruit is.

These photos are of a male. The female is similar but the white areas are duller and greyer.