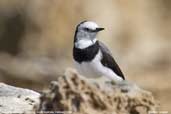 Coorong, South Australia
February 2006

The White-fronted Chat is distributed in Australia south of the Tropic of Capricorn and in Tasmania. It is found in low, damp vegetation on the edge of swamps, lakes or on the coast.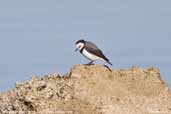 The forehead, face and underparts are white with a black breast band extending over the rear crown. The eye is very pale yellow. The female, seen on the right in photo 3, is duller with a greyish forehead a narrower breast band and a darker yellow-orange eye.

It feeds mainly on the ground where it looks for small insects.