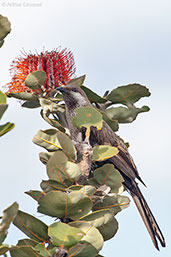 Cheynes Beach, Western Australia
October 2013

The Western Wattlebird is distributed in the south-west of Western Australia. See the distribution map at Birdlife International. It is found in Eucalyptus forest and woodland and shrublands with Banksia and Dryandra.

Although it is called a wattlebird it does not have any wattles. In this respect it is similar to Little Wattlebird A. chrysoptera with which it used to be lumped by many authorities.