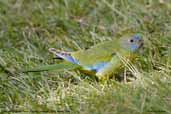 Barren Lands NP, NSW, Australia
March 2006

The Turquoise Parrot is distributed in south-eastern Australia from southern Queensland to eastern Victoria as far as the Snowy River. It is found in open grassy woodland, coastal heaths, grassland and orchards provided there is a supply of grass or weed seeds for food and some dead trees for nesting.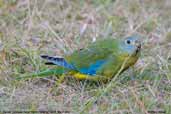 The male is green with blue forehead and cheeks, a red shoulder patch, mid and dark blue bands on the edge of the wings and yellow underparts with yellow edges to the tail. The female, shown here, has a blue forehead, light grey mask, bluish chin with green breast and yellow belly. She also lacks the red shoulder patch.