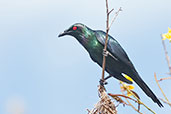 Cairns, Queensland, Australia
November 2010

The Metallic Starling is distributed in Papua New Guinea and surrounding islands as well as in north-east Queensland from Cape York to Townsville. The birds in Queensland are present during the breeding season from July to March. Most spend the non-breeding season in New Guinea but some remain all year.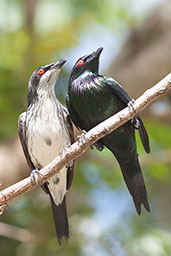 It is found in rainforest, woodland, mangroves and gardens.

It has a greeny-purple gloss, a bright red eye and a pointed tail. Immatures look quite different with the underparts white with dark streaks and an eye which turns gradually from brown to red as it matures.

They tend to nest in large colonies of up to 400 birds and make a tremendous noise at their nesting site. They feed mainly on fruit and feed their young either by carrying the food to the nest or by regurgitation as can be seen here in photos 4 to 7.