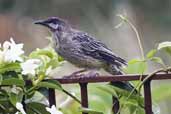 Australia

The Red Wattlebird is distributed in south-west, south and south-east mainland Australia. See the distribution map at Birdlife International. It is found in eucalypt forest, woodlands, scrub, orchards and gardens.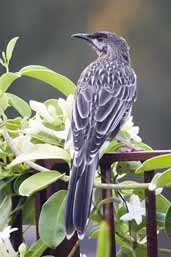 They are noisy and aggressive birds that feed on nectar, insects and insect larvae. Photo 5 shows a Red Wattlebird eating an insect.

It has a red eye with a whitish cheek patch below which hangs a red wattle which varies in size as it gets older with age. The centre of the belly is yellow.

There are three sub-species. The nominate (photos 1, 2, 7 and 8) is very similar to the race A. c. woodwardi found from South Australia westwards (photos 4, 5, 9 and 10) except the latter is smaller with a shorter tail.