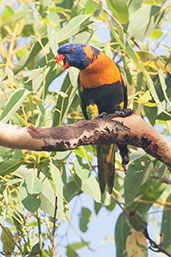 Mary River, Northern Territory, Australia
October 2013

The Red-collared Lorikeet is distributed in the north of Australia. See the distribution map at Birdlife International.

It differs from Rainbow Lorikeet T. moluccanus in having an orange rather than pale green hind collar, a blue rather than green nape and a black rather than blue belly.