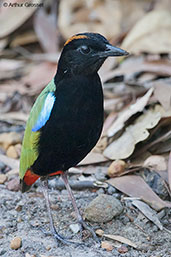 Howard Springs, Northern Territory, Australia
November 2013

The Rainbow Pitta is distributed in the north-west of Western Australia and in the north of Northern Territory. It is found in monsoon rainforest, gallery forest and thickets where it feeds on where it forages on the ground mainly for worms, snails and insects.

Its call is sometimes translated into human terms as "I want a whip"