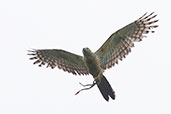 Queensland, Australia
November 2010

The Pacific Baza is distributed in northern and eastern Australia, Papua New Guinea, Indonesia and the Solomon Islands. There is a distribution map at Planetofbirds.com. It is found in a variety of habitats from rainforest to secondary growth, savannah, mangroves and gardens.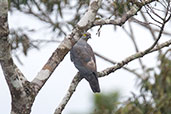 It is a small to medium sized kite, slate grey to brown above and barred blackish-brown on cream on the belly under a greyish throat and breast. The eye are yellow and the bill is grey. Neither of these photos show the black crest.

It feeds on insects, reptiles, frogs (as seen in photo 1) and small mammals.

At the start of the breeding season they have spectacular aerial displays. It is during the breeding season that the mellow double call is most commonly heard. It is sometimes rendered as "wee-choo"