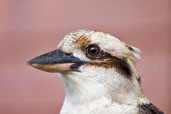 Australia

The Laughing Kookaburra is distributed in eastern Australia from the Cape York Peninsula to South Australia and there are introduced populations in south-west Western Australia, Tasmania and New Zealand.

It is found in Eucalyptus forest and woodland and in woodland along rivers, in gardens and parks.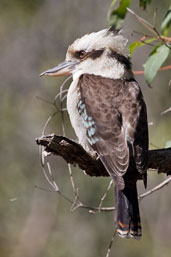 It is a very large kingfisher with a white head, a dark eyestripe and a darkish crown. Remaining upperparts are dark brown with a blue rump and pale blue tips to the wing coverts. The tail is rufous-brown above with black bands and white below with dark bands.

It sings very loud laughing choruses usually sung by two or more birds as can be seen in photo 4.