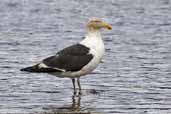 The Kelp Gull is found near the coasts of southern South America, southern Africa, Australia, New Zealand and Antarctica.

In Australia it occurs in south-east and southern Australia including Tasmania but it is local and patchy.
It has a mainly white body with a contrasting black mantle, yellow bill with a red spot near the tip of its lower mandible and dull, greenish-yellow legs. In flight it has a white trailing edge to its black wings and an all-white tail.

This particular bird is in its 4th year so not quite an adult but it can be distinguished from the similar Pacific Gull L. pacificus by its less massive bill, the red bill spot on the lower mandible only and the duller yellow legs.

There are illustrations in HBW, Volume 3, Page 606; Sick, Plate 14; and Ridgely & Greenfield, Plate 26.