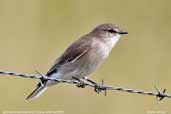 Cobargo, NSW, Australia
April 2006

The Jacky Winter is found throughout Australia except the driest interior, the north of Cape York Peninsula and Tasmania. It is found in a wide variety of open habitats from open woodland to pasture and orchards.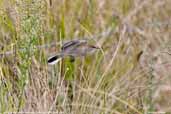 It is grey-brown with a whitish supercilium, a dark line through the eye and a white breast. The tail is blackish brown with prominent white outer feathers particularly noticeable in flight.

It feeds on insects, worms and grubs which it captures after spotting its prey from its perch - often a fence post or barbed wire. It is also one of the few song birds that is known to hover momentarily while hunting.