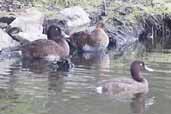 Victoria, Australia
January 2006

The Hardhead is distributed in the better watered parts of the eastern states, particularly the Murray-Darling Basin, and in south-west Western Australia. It is found on deep, permanent wetlands, coastal swamps and man-made ponds.
The male is a rich, dark brown with a whitish lower breast with brown spots and a white rear. Underwings are mainly white and there is a broad white band to the rear of the upperwing. Its eye is white while while the bill is black with a grey-blue stripe near the tip.

The female (or possibly, immature), seen here in photo 3, is a paler brown with a brownish eye and a paler throat.