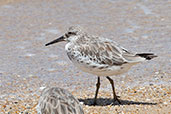 Cairns, Queensland, Australia
November 2010

The Great Knot breeds in north-east Siberia and winters in Australia and around the coasts of south-east Asia, India, Pakistan and the eastern shores of the Arabian Peninsula. See the distribution map at Birdlife International who classify the species as Vulnerable as a result of the rapidly declining population due to the reclamation of important migratory stop-over wetlands in China and south-east Asia.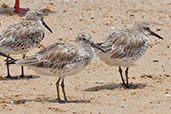 It arrives in Australia in September and leaves in March.

It has a long, heavy-based and slightly decurved bill which is longer than the head. In non-breeding plumage the upperparts are grey-brown with dark feather shafts and pale fringes. The breast is spotted and there are a few spots on the flanks.