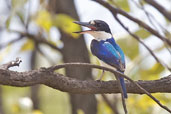 Queensland, Australia
November 2010

The Forest Kingfisher is distributed in northwestern Australia and in north-eastern Australia from Cape York to just north of Sydney, NSW. It is found in a variety of wooded habitats and it is often seen perched on a branch or wire ready to plunge down on its prey of caterpillars, grasshoppers, spiders and small reptiles.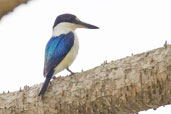 The male, seen in photo 2 has a white hind collar which is lacking in the female, photo 1. The immature in photo 3 shows buff on the loral spot, breast and flanks while the crown and wing coverts have buff edgings.

The most common nest site is a burrow built into a tree termite nest and they have been observed flying at a termite nest head on to open up the hole which they then excavate using their bills as picks.