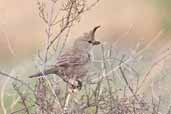 Port Augusta, SA, Australia
March 2006

The Chirruping Wedgebill is distributed in the interior of South Australia, New South Wales and Queensland only approaching the coast at the Spencer Gulf. We saw these birds at the excellent Arid Lands Botanic Gardens in Port Augusta. It is found in arid scrub.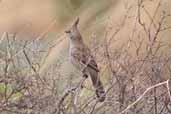 It is pale brown with a tall, slim crest, white edges to the wing feathers and a long, rounded tail with white tips. Its bill is dark and a chunky wedge shape. The immature, seen in photo 3, is similar but has a pale orange bill.