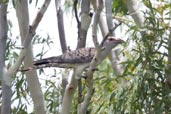 Townsville, Queensland, Australia
December 2010

The Channel-billed Cuckoo breeds from eastern Indonesia to northern and eastern Australia and winters in Papua New Guinea and surrounding islands. It is found in rainforest and woodland and near the coast inland from mangroves as in this case.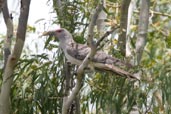 It is the largest brood parasite in the world arriving in Australia in August / September and departing in March / April.

It has a huge bill with a dark grey base and paler tip. It has red skin around the eye and the tail has a black subterminal band and a white tip.

They paratisise large birds such as crows, Australian Magpies, Currawongs and butcherbirds.

Their song is a loud, hoarse squawk.