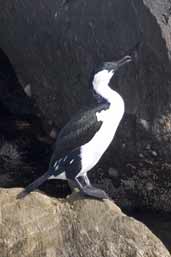 Australia
February / March 2006

The Black-faced Cormorant is distributed along the southern coasts of Western Australia, South Australia, Victoria and Tasmania. It is strictly marine and is never found inland.

It has a blue-green eye, black facial skin and a dark grey bill. It also has a black mark down its flank. Breeding plumage has white plumes on the head, neck and the sides of the rump as can be seen in photo 1.