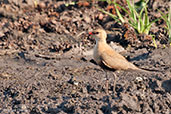 Kakadu, Northern Territory, Australia
October 2013

The Australian Pratincole breeds in the drier areas of northern and eastern Australia and migrates to Northern Territory, north Queensland and as far as southern Borneo between April and December. There is a distribution map at Birdlife International. It is found in bare, scrubby areas though seldom very far from water.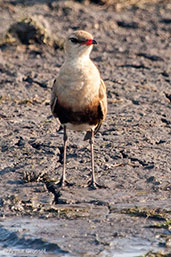 These birds (it was possibly the same individual) are in breeding plumage showing a complete chestnut band across the belly rather than the broken one of non-breeding plumage. It is also less dull and shows dark lores.

It feeds mostly on the ground where it forages for beetles, termites, grasshoppers, centipedes, etc..