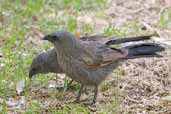 Australia


The Apostlebird is distributed inland in north and east Australia but does not extend to the coast. It is found in open woodland and scrub near water, in orchards and agricultural land with trees. These birds were amongst River Red Gums beside the Murray River.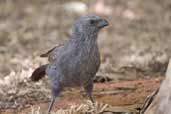 They are grey birds with brown wings and a black tail. The bill is black, finch-like and robust. They are usually found in large groups which, whenever I counted them, often consisted of about twelve birds - hence the English name.

They belong to the family Corcoracidae or Australian Mudnesters and are related to crows. The only other member of this family is the White-winged Chough Corcorax melanorhamphos. Both species are very social with large groups feeding on the ground. Apostlebirds eat insects and seeds that they find on the surface of the ground. The members of a group also share in building the mud nests and raising the young.