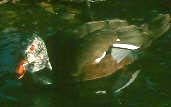 WWT Barnes, London, England
January 2002
Captive Bird

In 1997 it was estimated that there were only 450 birds left in the wild and spread between Laos, Thailand, Vietnam, Cambodia, Indonesia (Sumatra), India and Myanmar. It is thought to now be extinct in Malaysia and Java.
It inhabits pools and marshes in dense, swampy forest where it depends on trees for roosting and nesting. The White-winged Duck is very secretive and feeds mainly at night on seeds, grain, rice, snails and fish.

It has suffered from loss of habitat and hunting pressure and is now classified as Endangered by Birdlife International.

There are illustrations in HBW, Volume 1, Page 590 and Threatened Birds of the World, Page 94.