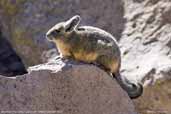 Lauca N.P., Chile
February 2007

The Mountain Vizcacha is distributed in the extreme south of Peru, northern and central Chile, western and central Bolivia and western Argentina.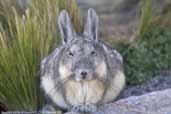 As its name implies, the Mountain Vizcacha is found in the Andes where it is most active at dawn and dusk when it can be seen leaping with great agility around rocks and boulders. It feeds on any vegetation it can find.

Although it looks very like a rabbit with a long tail it is, in fact, a member of the Chinchilla family.