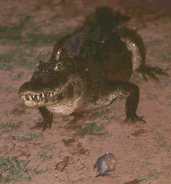 However, I believe that the first two photos, taken on the banks of the Pixaim River in the northern Pantanal might be of the Yacare Caiman Caiman yacare which is sometimes regarded as a sub-species of the Spectacled Caiman. The fish is a piranha.

The third photo was taken in a small lake of fairly still water in the Amazonia National Park on the left bank of the Tapajos River.

If anyone can help with the correct identification, please let me know.