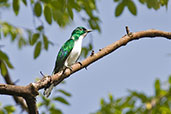 Mole National Park, Ghana
June 2011
Klaas's Cuckoo is distributed in Africa south of the Sahara from Senegal to Sudan and South Africa. It is a seasonal migrant to the north and south of its range moving with the rains. There is a distribution map at Birdlife International.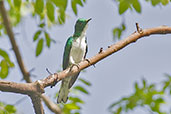 It is found in more open habitats than African Emerald Cuckoo C. cupreus such as savanna woodland, forest edges and gardens. However, it is solitary and unobtrusive with the female being seen only rarely. These photos are of a male. It feeds on insects, mainly caterpillars, butterflies, bugs, beetles and termites.

A brood parasite it parasitises warblers, sunbirds, flycatchers and white-eyes.

A common song is a couple of plaintive whistles often repeated three times in a row and sometimes rendered as "who is he?"